book 2, travelling
and we (still) need to talk about sex
by Charlie Alice Raya
Travelling around the world, Alice and her team build an international network for the Easy Town Project.
Travelling with them are the past, personal demons and unwittingly the issue of sex.
Alice isn't happy to be on this handshaking mission, and she would much rather be with her main team in London and continue to work on the town ideas.
But as each country adds something new and unexpected to the journey, Alice eventually concedes that the encounters and challenges along the way will shape the future of the project. Besides, she enjoys most of the adventures, and her recklessness has the occasional field day.
While book 1 introduces the town project, book 2 places the town ideas in a broader and international context.
'We can continue to whine about the state of the world, or we can employ our imagination and explore how to do better.'
book 2/1, travelling, Happy Flying
Tom's estate
//
New York
/
|
San Francisco
/
|
Rio de Janeiro
/
|
Buenos Aires
/
|
South Africa
/
|
Australia
'Just so we're on the same page,' Alice said. 'We'll go on this journey to get a shiny reputation, to meet some of our not yet existing international teams, to see some Hub Stations, and to get a better idea of what we've gotten ourselves into?'
'Yes, that's us.'
book 1, beginning
/
|
China
/
|
Otaon
/
|
Romania
/
|
Russia
/
|
Berlin
/
|
(+ London)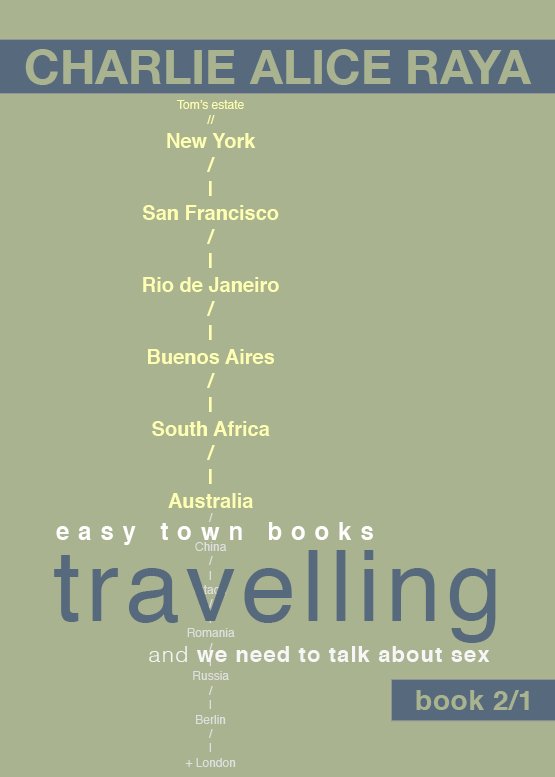 ---
book 2/1, travelling
---
includes
Prelude, Happy Flying, San Francisco, Rio de Janeiro, Buenos Aires, South Africa, Flight to Sydney, Australia, Time off
Preview: Happy Flying
Pages: 471 pages, 127k words
Format: ePub
Price: €9.88 (incl. VAT)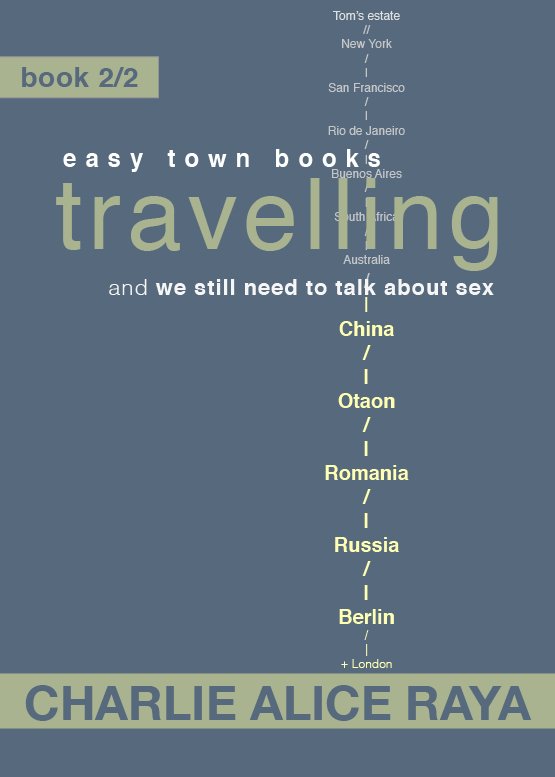 ---
book 2/2, travelling
---
includes
Flight to Beijing, China, Otaon, Romania, Flight to Moscow, Russia, Berlin, Afterthoughts, Postscript
Pages: 685 pages, 196k words
Format: ePub
Price: €15.06 (incl. VAT)
'So we only succeed on this planet, because there are enough rogue people who enjoy exploiting their fellow humans? Is that what you're saying? Cheers to all the bastards?'
book 2/1, travelling, Australia
book 2, travelling in chapters
book 2, travelling is also available in single chapters
(1) San Francisco
The journey kicks off to a bumpy start: Alice slips up, something is brewing within the travelling team, the meeting with a property mogul leaves Alice in a bad mood, and eventually Alice and Tom take a decision which is greeted with a stonewall from the travelling team.
Pages: 92 pages
Price: €2.25 (incl. VAT)
(2) Rio de Janeiro
Twice in Rio, Alice has to confront dark memories. In one case, retelling a nightmare earns her some respect. In the other case, Devery is glad that no one else is listening to their conversation. Not that he disagrees, but some of Alice's thoughts are rather dark.
Pages: 68 pages
Price: €1.86 (incl. VAT)
(3) Buenos Aires
At first, the travelling team get something of a breather 'just talking, sharing ideas, pondering small and big questions.' Then a tragedy gives them a punch in the stomach, Alice struggles with some news, others scheme to sabotage the project, and Jack receives a heavy blow.
Pages: 62 pages
Price: €1.62 (incl. VAT)
(4) South Africa
The stay in Injaberg is marked by clashes, Alice's jumble of thoughts on colonialism and racism, an unexpected mediator, and news that divide the travelling team. In the aftermath of an attempted coup within the travelling team, some struggle to find their footing again.
Pages: 150 pages
Price: €3.48 (incl. VAT)
(5) Australia
Jack recaps the first days in Sydney, and he concludes that things are looking up. The next day, he fights with a jelly cocoon, witnesses zoo talks at breakfast, Brexit talks at lunch, and a town excursion afterwards. His day ends with a lonely beer. The following day has to be better. It is – sort of.
Pages: 99 pages
Price: €2.25 (incl. VAT)
(6) China
For Alice the visit in China starts with two secrets. One secret helps her to keep an open mind during some meetings. The other might help her to understand herself better. Meanwhile, the project's adversaries come up with new plans, but it's the assassins who get too close.
Pages: 151 pages
Price: €3.56 (incl. VAT)
(7) Otaon
Otaon is a most remarkable chapter on the travelling team's journey. It's a feast with fairy tales, humour and wisdom, an unexpected adventure, a celebration of human ingenuity, an acknowledgement of human faults, a journey magic and a little tragic but overall uplifting.
Pages: 162 pages
Price: €3.67(incl. VAT)
(8) Romania
Despite some drawbacks, Alice has a great time in Romania. Not everyone is happy about that, but when Alice and Bertok develop a new idea, almost everyone is enthused, and Alice spends a sleepless night to ponder a crucial question. Meanwhile, Jack is troubled in Italy.
Pages: 93 pages
Price: €2.30 (incl. VAT)
(9) Russia
Filip and Natasha invite Alice to an exclusive ball. Thanks to the sex talk, Alice has a lot of fun. But then things start to go downhill, and after a warning, the travelling team goes into hiding. Disguised, Alice travels to meet the one person who might know what the heck is going on.
Pages: 176 pages
Price: €3.94 (incl. VAT)
(10) Berlin
When Alice arrives in Berlin, she feels strange. Five months ago, she left with the idea for a town experiment. Now she returns as the head of the town project. It's time to wrap up her old life. After two very different goodbyes, the launch of the new Hub takes centre stage, and the sex talk gets new input.
Pages: 143 pages
Price: €3.14 (incl. VAT)
The watcher is a reminder that humans will only progress if and when they strive to understand what it is they are doing, and when they ask themselves why they are doing it.
book 2/2, travelling, Otaon
'Where do generalisations lead us? We put people with boobs in one bucket and people without boobs in another, and there: we believe we understand the world.'
'You do know that men have breasts too?'
'All right, let me be more precise: we put milkboobs in one bucket and all other boobs in the other. And we still believe we understand the world.'
book 2/1, travelling, Rio de Janeiro
I called Devery earlier. Great listener, a huge bag of experience, and a sober mind (contrary to my present me mind). He managed to get me out of that self-pity pit. Said it's always better to create something extraordinary than to waste your life in a safe bubble.
book 2/2, travelling, Berlin