last updated: 22 January 2023
copyright & disclaimer
---
Publications
by Charlie Alice Raya
---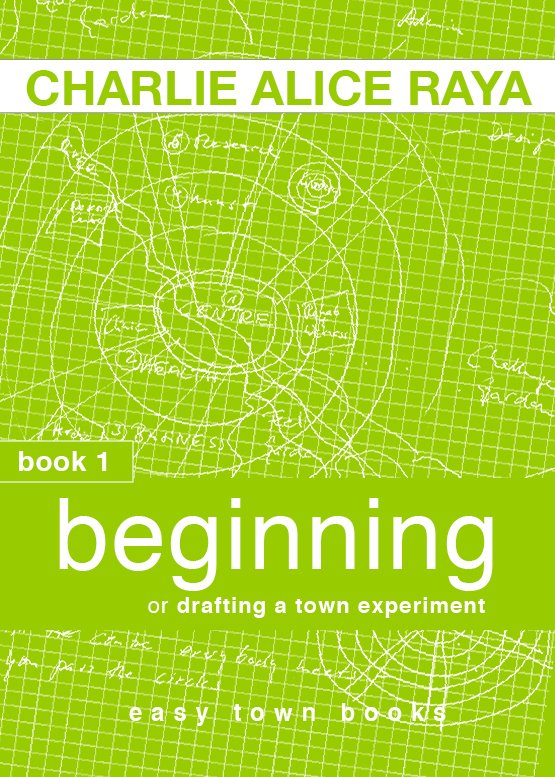 book 1, beginning,
or drafting a town experiment
by Charlie Alice Raya
ISBN 978-3-00-060915-2
First published as e-book in Berlin, 2018, republished in Berlin, 2020
Copyright © 2016-2023 Charlie Alice Raya / Ellen Paschiller
cover images & layouts © Charlie Alice Raya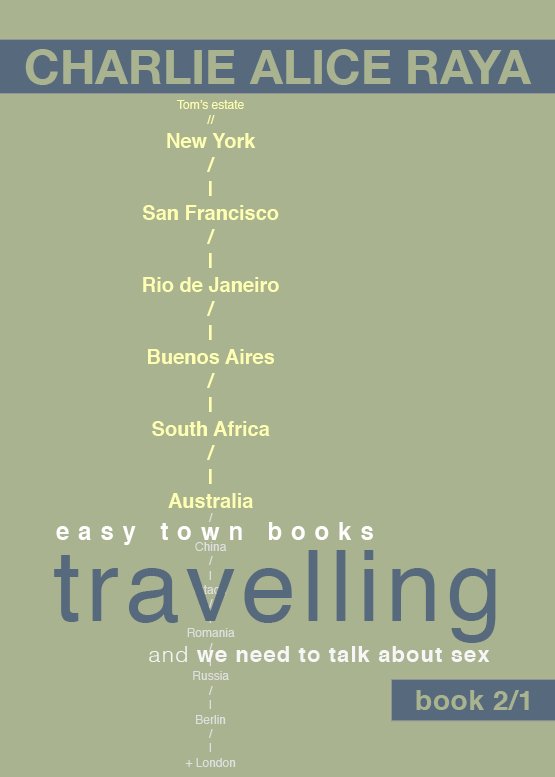 book 2/1, travelling, and we need to talk about sex
by Charlie Alice Raya
ISBN 978-3-9821289-6-2
First published as e-book in Berlin, 2020
Copyright © 2016-2023 Charlie Alice Raya / Ellen Paschiller
cover images & layouts © Charlie Alice Raya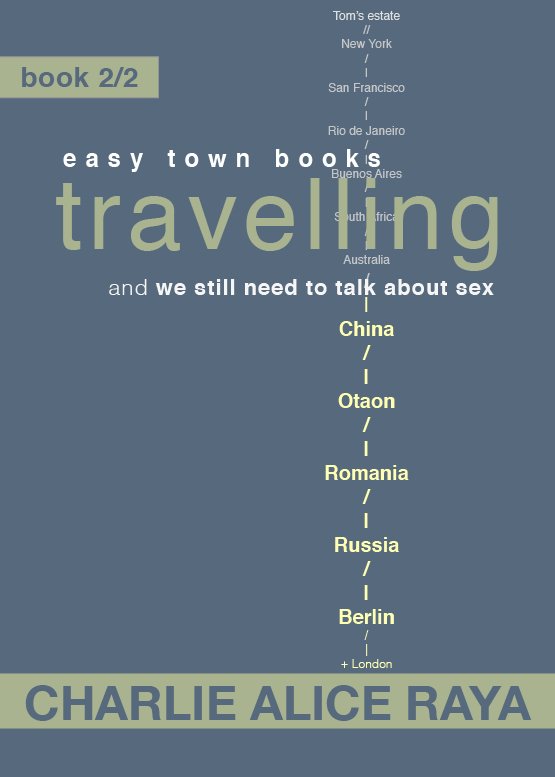 book 2/2, travelling, and we still need to talk about sex
by Charlie Alice Raya
ISBN 978-3-9821289-9-3
First published as e-book in Berlin, 2021
Copyright © 2016-2023 Charlie Alice Raya / Ellen Paschiller
cover images & layouts © Charlie Alice Raya
book 3, shaping, and it could be so easy
by Charlie Alice Raya
Copyright © 2016-2023 Charlie Alice Raya / Ellen Paschiller
book 4/1, building, or the impossible happens
by Charlie Alice Raya
Copyright © 2016-2023 Charlie Alice Raya / Ellen Paschiller
All rights reserved. All easy town books, including the extracts collections and additional material. These books and e-books are sold for private use only. They may not be copied, transmitted, reproduced, lent, resold, hired out, or otherwise circulated without the author's prior written permission.
No part of the books or the included ideas may be used or reproduced in any way without the author's written permission. This also applies to any quotes, extracts from the books, or images and additional material, published on this website.
Don't be a dick and feel all clever about handing out free copies of the e-books. All books and all images are protected by copyright law and are not available for free distribution. Nor is it permitted to use any part or any idea included in any of the books, or on this website, without prior, written permission by the author. Any copyright infringement will be prosecuted.
All publications, photographs and other images are protected by German copyright law.
For further information contact:
contact@easy-town.org or use the contact form.
The easy town book series is a work of fiction.
Names, characters, places and incidents are the products of the author's imagination or are used fictitiously and are not to be construed as real or factual.
Any resemblance to actual persons, living or dead, events, locales or organisations is entirely coincidental unless monopolists make such an approach impossible. In no case does the author attempt to factually portrait a real person, organisation, place or country.
The only exception is Alice, the main character, whose past is autobiographical.
This story takes place in the present day world. Any reference to actual events, theories, people or organisations reflects the author's personal opinion, and is not to be construed as fact.
All ideas presented in this book are original ideas unless a source is mentioned in the text or in the acknowledgements. Saying that, there are surely others who follow this or that line of thought as well.
---
photographs & graphics
by Charlie Alice Raya
---
All but three photographs, and all graphics, presented on the easy town websites are by Charlie Alice Raya. All rights reserved.
No photograph or graphic may be used, reproduced or circulated without prior and written permission by Charlie Alice Raya.
The two portraits of the author with camera were taken privately. Please contact for further details. All rights reserved.
If you are interested in a licence for a photograph, please get in touch.
---
Website: www.easy-town-books.com
---
concept, layout, content: © 2023, Charlie Alice Raya, all rights reserved
photographs & graphics: © 2007-2023, Charlie Alice Raya, all rights reserved
Design based on Theme Freesia, Idyllic, using WordPress
The content published on this website is protected by German Copyright Law.
Copying, using or transmitting images, texts or complete pages of this website is prohibited and punishable.
---
Disclaimer regarding the website
---
The content of this website has been compiled with care. However, there is no guarantee with regard to the accuracy, completeness or the currentness of the data and content presented on this website.
Should this website contain any links to external websites, please note that Charlie Alice Raya can't be held responsible for the content of any external website.